This weekend, as you all know, I spent the weekend up in my hometown, keepin it real (as always) for my brother's 10th birthday party. Yes, 10 years ago my little brother was born, all 4 pounds of him! Now he's 73 pounds, and as energetic as ever! I had fun hanging out with my family and eating cake. Of course, I took pictures (and videos, although I don't know how to get them off of my cell phone), and I allowed myself to have a grand ol' time. So here's how my weekend went:
In order to catch the earliest Amtrak train, I spent the night at Kourtney's house, which is closer to the station than my house. I woke up at 6:30 (yes, in the morning!!!!) and made my way to the bus stop with a very groggy Kourtney (my sweety loves me enough to roll out of bed just to walk me across the street; how lucky am I?!). We had just missed the bus, but luckily another one came about 7 minutes later. I kissed baby goodbye, hopped on the bus with all the early risers, and headed toward my destination! The train ride to Sacramento was not too bad, and I was lucky enough to have a very polite seat buddy-- we ate our breakfast together in silence as we made our way through Martinez, Fairfield, and Davis (she had a bagel, I had a Dr. Pepper). The thing I hate most is having to get off the train and wait for your connecting bus. Nine times out of ten, it's cold and windy. I'm never prepared for this, despite bringing two sweatshirts and wearing pants. I'm notorious for being fantastically freezing no matter how many layers I have on.
Once I made it to Auburn, Denise picked me up and we headed to Walmart for some last minute birthday items. I always feel generous when it comes to my younger siblings, perhaps because I want them to remember how awesome I am once they are teenagers and we can have mature sibling relationships, so I spent a little under 30 dollars on Imani's present. He's totally into being a boy right now, and sisters aren't as cool as brothers, but he still looks up to me, and I hope that when he's in college and needs to talk about adult issues, he'll remember that I like him enough to listen to him gab and not make him feel bad for it. The same goes for my sister, who is fast approaching adulthood (holy crap!); we're beginning to have conversations that stray away from the "today I made a fingerpaint picture for mommy" and head towards "OMG, my teacher for math is a total butthead, and the other day me and my best friend went for a walk and we saw this guy and he was all 'what's up' and we were all 'whatever, dude' and he said 'I don't care what you think, I'm gonna join a social group where we all look the same because we refuse to confrom to society's rules on appearance' and I said 'oh...'"
Okay, maybe not that ridiculous, but you get what I mean. It's exciting, because she's not just a little sister, she's more a person now (I know, she was a person before, but she's way more relateable now). Anyway, we went out to dinner in honor of Imani's birthday, and then we went home and called it a night. Nothing reminds me of my terrible sleeping habits more than going to my Dad's house for the weekend. We were all in bed by 10. At home, I'm lucky if I fall asleep by midnight, and a normal night would be falling asleep around 2:30. Now, I had already been up since 6:30, running on about 5 and a half hours of sleep, so I conked out fast! And then I woke up the next day around 7:30 (of course, I didn't drag myself out of bed until 9, at which time I promptly went downstairs to jump on top of my sister saying "It's wakey time!!!!" because that's what big sisters do).
Okay, it's almost 9pm, and I haven't eaten dinner, so I'll have to finish the Weekend Adventure story tomorrow. For now, here are some pics of the birthday bliss: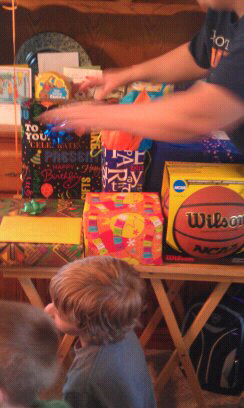 Imani's Stack of Presents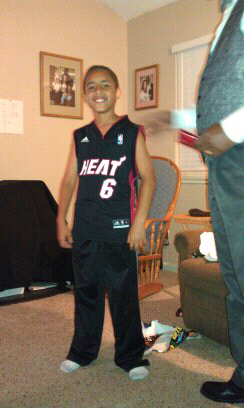 The Miami Heat Jersey Imani Got For His Birthday


The Delicous Birthday Cake! Chocolate With Strawberry Filling. Yum!

A Picture Of My Sister (So She Doesn't Feel Left Out)
As a bonus for the weekend, Denise made my favorite dinner: Beef Stroganoff! WOOT!